At the customer's, the reception services were organised by the Logistics department. The renewal of the reception areas and the separation of the reception services from this department had been in the air for some time, but had not yet been put into practice. The organisation expressed the wish to develop a clear vision on reception services for the coming years and to implement this vision unambiguously in all branches throughout the country. We were asked to assist the client in developing and formulating the desired vision on reception services.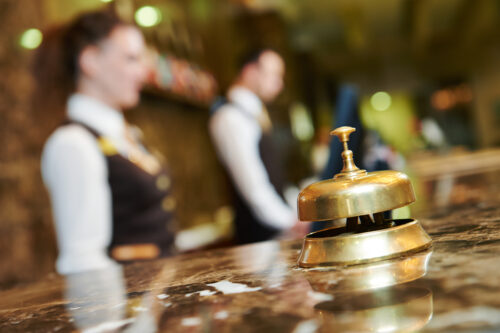 Working method
For this assignment, safety management specialist Frans Visser and facility management specialist Suzanne Wetzels of VFM Facility Experts set to work. The approach consisted of two phases. In the first phase, we oriented ourselves on the current services and the internal situation. We did qualitative research, consisting of a number of interviews, site visits, discussions with officials of the national office and a questionnaire for clients. With the insights from this first phase, we developed an appropriate vision of reception services in the second phase.
The following key words are central to the vision: professionalism, speed, accuracy, flexibility and uniformity. The translation to what the vision means for the organisation and its management results in a preferred outsourcing model.
Attention is paid to the customer's current own reception staff.
After successfully completing the vision creation in the form of an advisory report, we also supported the client in further elaborating and concretising this vision with the aim of creating a future-proof arrangement of the reception services for the organisation's locations.